Summer is all about fun and fashion. From colours to fabrics to trends, there's a lot that comes with summer. Let's explore some cool summer wear tips and tricks that'll help you pick the best of your summer wear.
Shorts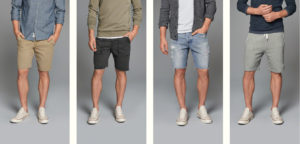 This summer, go for hot shorts. They are trendy casual-wears. No matter what you wear them with, they make it to stand out. The simpler the shorts, the dressier will they look. Not only are they super comfortable, they're super cool looking too. Go grab yours today.
Ditch The Denim

When it comes to lower wear during summers, wearing denim is a big no no. They're tight fitting, and too thick for summers. Their extremely tight weave and treated colour, can trap in heat and cause excessive sweating. This summer, go for light weighted cotton, linen or khaki pants.
Breathable Fabrics

Summers are all about the heat and the drenching sweat. Wearing light and breathable fabrics are the best choice you could make. Cotton and linen being light weighted and airy fabrics, are very appropriate for summers.
Pick Pastel

Go pastel on colours this summer. They keep you cool and also look exceptionally classy. Where dark colours soak up heat making you feel hot; light, pastel colours reflect the heat making you feel cool. Also, pastel colours are trending this summer. So, go buy yourself some nice pastel coloured clothes.
Loosen Up

Not that we recommend oversized clothes, it's always better to wear loose and airy clothes. Tight, skin hugging clothes trap air, making you sweat. Also, they irritate the skin and can get uncomfortable. Wearing loose pants and not-so-skin-hugging shirts can actually help you get through the harsh summers, with ease.
Now that you know what and how to buy this summer, go grab yourself some cool summer wears.
So what are you waiting for? Visit THE HUB today, for the widest range of exclusive summer wear colletion, and Let Your Clothes Do The Talking.
Hurry! Get the steaming hot collection today.