With the festival of lights approaching, it's time to up your ethnic fashion game. Merge your style with traditional elegance. We know a lot of you would much rather wear a T-shirt with jeans or any other casual outfits but we have faith in the show stopping abilities of our desi ones and would want you to take a chance and go desi for the festivity this year. The amalgamation of casual and ethnic brings forward endless possibilities to rock and roll the 2021 Diwali parties! Before you turn to your wardrobe to pull out that basic kurta-pyjama, this edit will help you fall in love with a string of festive outfits that make you put your best foot forward for all the festivities to come. THE HUB offers absolutely new fashion flavours that can be a blast to the generic traditional outfits for men. With just the right amount of glam, they will definitely be an add on to your fashion language.
ONE
Comfort is the New Cool
With the year of being in your pj's the entire day, we know comfort is the first thing on your mind this festive season. Fuss-free, relaxed and uber-chic. Choose a new fabric or simply upcycle a classic old one. Pair an oversized kurta with classic cotton trousers and wrap it up with an equally stylish shawl to rock that perfect #OOTN Diwali look. THE HUB offers attires that are simple and casual yet runs along the lines of perfect traditional outlooks.
TWO
Embracing the Festive Blues
When in doubt, pull that blue out! Perfect for absolutely any occasion, blue never fails to create a sparkling impression at Diwali celebrations. A blue floral printed nehru/bundi jacket when paired with a plain white
casual shirt
and tailored fit trousers makes an easy and casual aesthetic outfit to carry from a pooja at home to the Taash party at your friend's place.
THREE
Simplicity at its best!
Monochromatic looks always say less is more. Simply don a summer blazer over your kurta for that extra oomph and the boss in you. This ageless adventure is perfect for a warmer outfit, especially if you belong to a colder region, since Diwali is surely a winter festival. This outfit complements great with jodhpuri juttis leading to your ensemble being on point. Go ahead that extra mile to reveal your inner style star!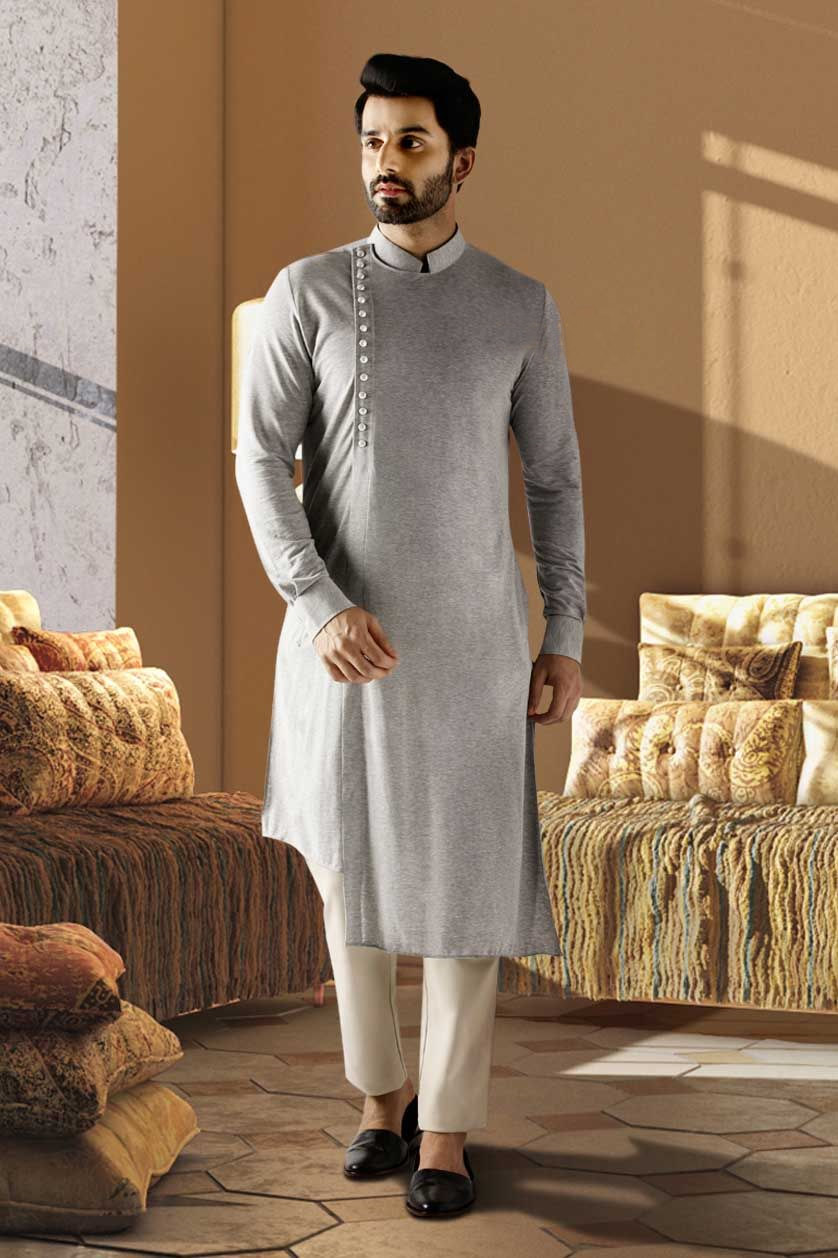 FOUR
Shades of Grey
Normally not a very festive color, Grey can act like a complete game changer when embraced with class and perfection. Opt for a casual printed short kurta along with a simple pair of white bottoms and voila! You are done. This ensemble looks absolutely stunning and gives a peppy, joyous vibe, too. With just the right amount of layering, a scarf or a shawl, THE HUB lets your style speak for itself this Diwali 2021.
FIVE
The Asymmetrical Elegance
Asymmetrical hemlines are all over the rage for cool indo western styles. You can surely debut a cool indo-western attire by wearing a solid tunic or mandarin collar shirt and throwing on a jodhpuri or nehru jacket over it. The artsy part of it all is choosing the colours. Go for solids and darker hues with contrasting bottoms. Pairing it up with jodhpuri pants and some juttis is what does the trick. Traditional shoes can make even a modern ensemble pass off as ethnic. That's the power those coverings possess.
SIX
Accessorize to the Occasion
Attention to the details can give your festive look a finishing touch. Adding a silk pocket square to your jacket can be an intelligent accessory to add. A good metal strap watch is not only a useful gadget but is also perhaps the safest accessory to pair your outfit with. If you are fond of and are comfortable in wearing bracelets, you should undoubtedly pair it with your outfits.
The HUB aims at making the 'Man in Fashion' set trends the right way. Explore the latest trends in casuals at The HUB.