The Wedding Edit
A symbol of rich tradition weaved with tons of threads that depict royal elegance, a sherwani is considered one of the most regal outfits for the groom to flaunt on his special day. With the challenge to be the best-dressed man amidst the entire crowd but in no way overshadowing his bride, choosing this ensemble can be quite a daunting task. Fret not! The HUB brings to you the second piece of advice from our exclusive wedding editorials that guide you through all the new trends, looks, and styles that helps you choose the perfect wedding sherwani fit for your personality and accentuate your personal style for your d-day.
ONE
PERFECTING THE SPIRIT OF HUES
Selecting the right color for your
sherwani
is the first and foremost part that should be on your checklist when you shop for your wedding attire. Not only your sherwani is a statement of your choice but also in today's world is a depiction of your intimacy with the bride's attire and the theme of the wedding. There are many different routes that can be chosen to master this step. You can either join the latest Bollywood trend and wear the same colour of sherwani as your bride and rock the harmonizing romanticism or go on to choose a hue that creates a complete contrast with your bride's lehenga. Any of these two choices should be chosen taking care of the color that goes with your skin tone and makes you feel comfortable. If you are among the ones who would like to take the third route, you can always opt onto creating an impressive statement using a different shade or tint of the same hue.
MASTERING THE PERFECT PICTURE?
Make appointments to go sherwani shopping with your bride so as to perfectly match the shade of both of your attires.
TWO
PATTERNS THAT LEAD TO CONJUGAL BLISS
With numerous patterns that use various kinds of embellishments, adornments or threadwork, selecting the right one that compliments all, your personality, bride's attire and the theme of your wedding can turn out to be intimidating. Although it is very common to choose heavy works that go in line with the grandeur and splendour of Indian weddings, many people today choose subtle patterns that delicately bring out the charm of the outfit. You can choose from embroidery patterns like kasab, jaal, kashmiri or chikankari if the theme of your sherwani meets the lines of sophistication. On the other hand, sequins, crystals or striking color combinations can give an edge to a glamorous-looking sherwani.
MASTERING THE PERFECT PICTURE?
Adorn your sherwani with buttons, gems, cuffs, stones, beads, and royal-styled motifs for that extra add-on of royalty on your chosen pattern.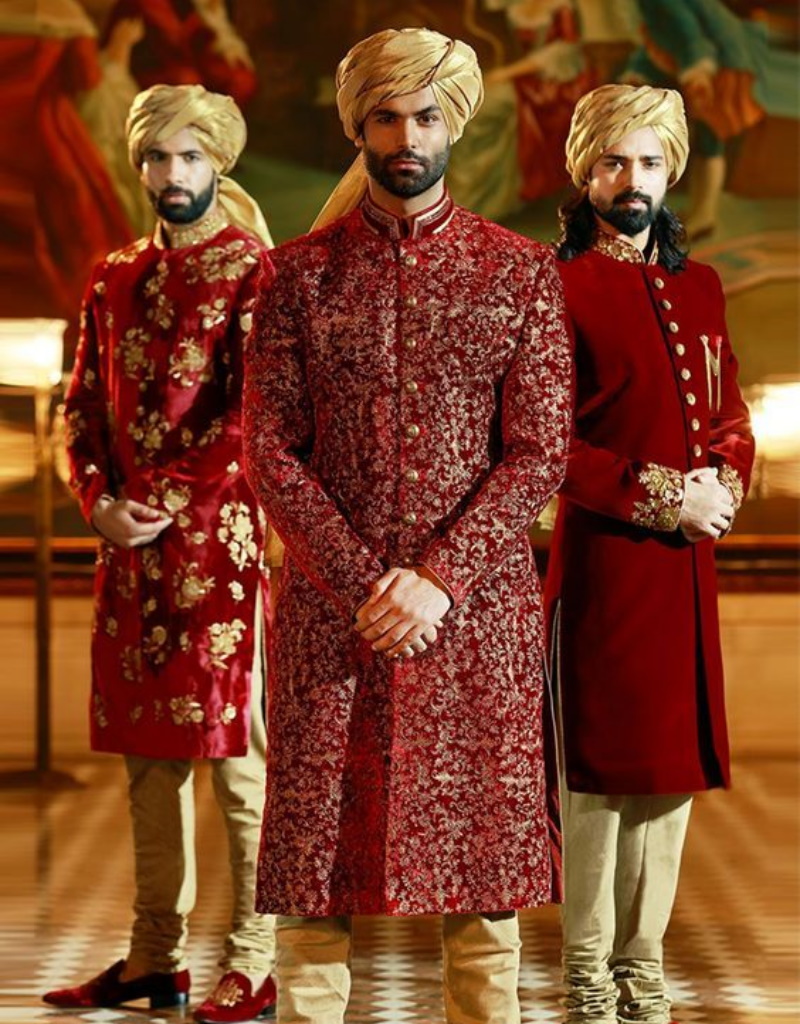 THREE
FOLLOW THE RICHNESS OF RED
The red hue has been closely associated with weddings since ages. Various shades and tints of this royal color have always added the accent of vibrancy and a refined look to any and all kinds of
wedding wears.
Be it crimson, rufous, wine or maroon undertones, when combined with the subtleness of white, elegance of black or the shimmer of gold, they are sure to put you into the spotlight and be head-turners. The best thing about sticking to the opulence of this color is that you can very easily compliment your bride's outfit since many lovely brides choose this hue for their
wedding lehengas
. Have your collars ornately embroidered or flaunt some gold woven motifs, with embellished buttons paired with gold churidar, a rich red stole and a red turban.
MASTERING THE PERFECT PICTURE?
Make sure you match your accessory color with the secondary color of your sherwani.
FOUR
PAY ATTENTION TO DETAILS
An outfit is always at its best when it is accessorised well. Even tiny details like buttons on your sherwani do create a big difference in the overall look of your
wedding attire
. If you are fond of experimenting, you can add a quirky touch of modernity to this
traditional Indian outfit
by adding a piece of jewellery or pocket brooch of contrasting color. Additionally, you can also embellish your
wedding outfits
with antique-looking motifs, sequins, or matte/gold finished jewellery. Finally, be confident, style your hair accordingly, and get ready to impress one and all.
MASTERING THE PERFECT PICTURE?
If you want to play it safe and also keep it simple, go for a sherwani with medium to small size motifs homogeneously arranged all over!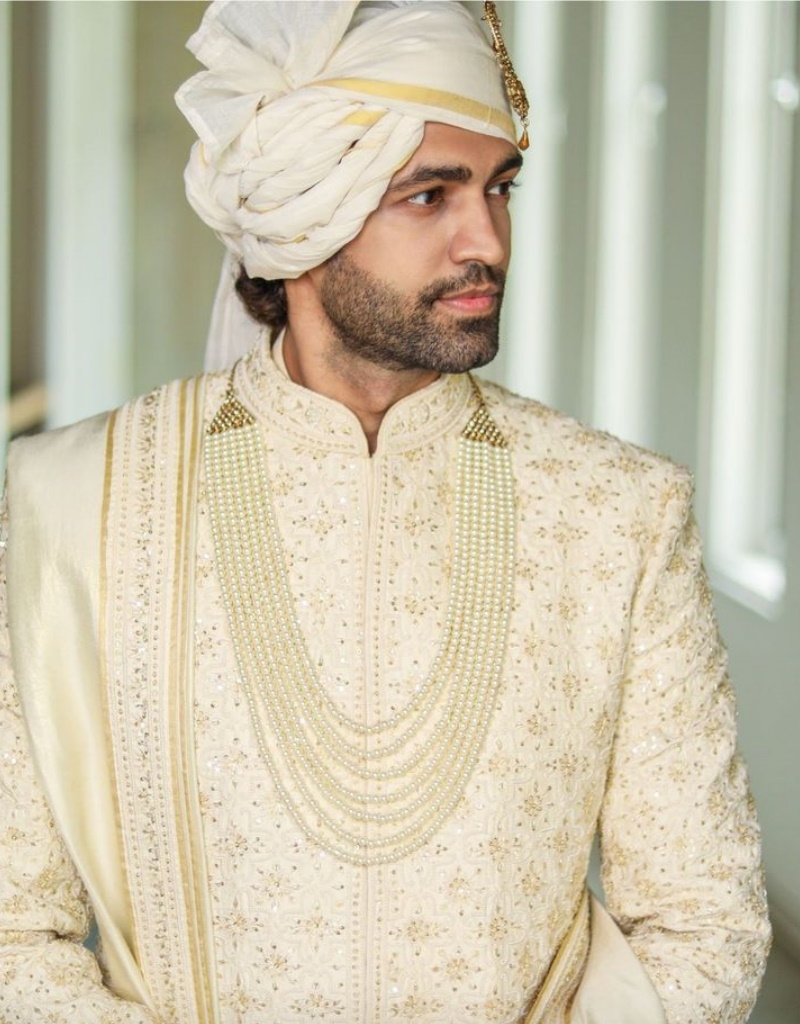 FIVE
KNOW HOW MUCH IS TOO MUCH
Although wedding sherwanis are meant to be glamorous and glitzy, you may make the huge mistake of choosing some jewellery piece that doesn't belong with your
wedding sherwani
or a pattern that acts too much for the outfit. This calls for some of the major disasters on wedding days. Therefore, to not make things worse, choosing the right accessories or print is the key. Be as subtle as possible and simply let your wedding sherwani handle all the glam portion. Complement and complete your
wedding outfit
with a turban or Safa.
MASTERING THE PERFECT PICTURE?
To add an extra edge while being subtle, pair your sherwani with a jacket, stole, and cufflinks.
So, what are you waiting for? Visit The HUB and shop for some elegant and exclusive festive collections. Stay tuned for more style updates.