The greatest stories of the world are written around the journey of tying knots. Indian weddings are great extravaganzas that involve a lot of big decisions and people. A glamorous affair – they are the runways for unique fashion and styles.
With running various marathons for multiple jobs on your list and numerous styles and colors to choose from, you might end up scratching your head to select the perfect Indian wedding sherwani for your big day. We know it is a daunting task along with the pressure to look and feel your best on your special day. Fret not!
This editorial brings to you checklisting threads from the detailed yarn of choices that are available in the market that suit your personality. Simply start checking off all the rubrics one by one and by the end you will glow with grace this wedding season.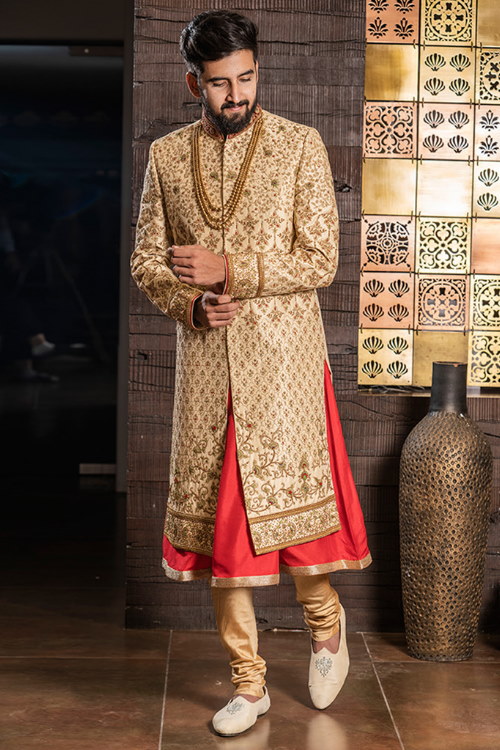 ONE
Show your true colors
The first step to decide any outfit is the color you feel the most confident in. It is going to be your day and choosing a color that does not match up to your personality can be a big mistake. To begin, select a palette of colors that you feel comfortable with. Once you have the hues in your mind, move on to eliminate a few colors that do not go with the theme or time of your wedding. Evening weddings are well carried by darker, deeper and richer colors like emerald green, royal blue or maroon and day ones with comparatively softer and pastel hues.
The HUB
offers
Indian wedding suits for grooms
in multiple colors and textures that lets your personality stand out at its best.
TWO
Blessings of designs
Designs are drops of heaven that are responsible for accentuating an outfit. With an array of designs to choose from, you should choose the ones that bring on simplicity and elegance to your personality. Floral patterns, stone embellishments, contemporary artworks, sequins, zari and zardosi embroidery are some embroidery and designs that run the path to making a sherwani. On most occasions, grandeur designs like sequins and embellishments are chosen suiting for nights and floral patterns along with contemporary artworks are affairs for daytime events.
THREE
Styled to the nines
The Wedding day is one of the most prestigious days of an individual's life and you should leave no stone unturned. With many styles to choose from, like
indo-western sherwani
, anarkali or patiala, pick one that is sure to bring you into the spotlight. Although, there is a trickier part to this deal. You may feel that choosing the style of your sherwani depends entirely on you. However, if the make that you pick weaves in with your bride's lehenga then this coordination is a perfect balance between time
and timelessness. This ensures that you do not look in competition with your bride, and ensures you two create your own poetry rendered in love.
The HUB
brings to you classy styles in sherwanis that uplift your fashion language.
FOUR
Fit to perfection
Ill-fitting sherwanis look bad put together. To avoid this pitfall, you should always make sure that the outfit lets you move around in it. Most weddings call for dancing and having a well fit sherwani allows you to sway to the rhythms of your big day without having to worry about the ripping stitches. A perfectly fit
sherwani
also makes sure that you are in limelight through the textile lens and helps you stay comfortable throughout the event. Suiting for nights as well as the day, you can rock it all if you have the perfect outfit. With made-to-order sherwanis by The HUB, you can enjoy your very special day without having to worry about bad fittings.
FIVE
Accessory check
If you thought that your work was done there, think again! Accessories like jewellery, floral elements, trendy turbans and dashing draped stoles are what truly makes your sherwani out for the nines. If you want to go towards minimalistic elegances, you can opt for a simple brooch or pocket square for that pop of color. If you are more into bejeweled legacy, you can adorn your look with a necklace or a turban ornament. Bold necklaces with multiple layers of precious or semi-precious stones and pearls add a subtle yet a definite aristocratic vibe to your sherwani. Also, don't forget to amp up your footwear! Embroidered juttis or mojaris add the perfect layer of sophistication to your masculine look.
Sherwanis will never go out of style and will always remain the center of attraction among all kinds of ethnic wear. So go ahead and rock your D-Day with utmost comfort and elegance.