The Wedding Edit
Big fat Indian weddings are a blast, but they also bring up a lot of questions. The most important one being what you should wear. Men's wedding wear has evolved from the traditional sherwani to tuxedo to a wide range of colors, prints, and textures. This leads to the next most common question in one's mind, how do you pick the right one from the wide range of extraordinary options that are available in the fashion market?
No longer are men's wedding attire limited to safari suits, kurtas, or beige and gold sherwanis. Grooms today have just as many options as their brides. This is thanks to progressive Indian designers who continually introduce us to contemporary styles, unique hues, and edgy prints. From unconventional sherwanis, achkans, and angrakhas to experimental outfits like tuxedos and bandhgalas, today you have access to plenty of choices.
Before selecting an outfit, it is important to consider what style you would like to wear on your special day. Think about whether you want to go traditional or opt for something classy and contemporary. Too many styles causing confusion? Worry not! The HUB brings to you this wedding edit that is designed to make your wedding shopping easier. With a variety of stylish and latest wedding dresses for men, including suits, sherwanis, and Indo-westerns, we are sure you will get straight to picking your favorite immediately!
ONE
The Wonders of Couturiers
A shimmery addition to your modern wedding wardrobe that perfectly complements elegance.
Designer Wedding Suits for men are a great way to make a statement on your special day. Whether you're looking for a classic piece to wear or something more modern and unique, designer suits for men can help you stand out from the crowd. Tailored to fit your body perfectly, giving you a look that is both stylish and comfortable, these exclusive wears from The HUB's Make Your Mark collection come in a variety of colors, fabrics, and styles to choose from. All these fabrics are designed to be breathable and comfortable, while still providing a polished look. They flatter your body shape, so you can be sure that you'll look your best on your special day. Woven with style, get ready to display modern essence in its true form along with reflecting finesse at every event.
TWO
The Elegant Ease
A timeless transition to classics.
Bandhgala suits for men
are a traditional Indian style of formal wear. Made of heavy fabric such as silk, velvet or stretched threads, they feature a high collar, long sleeves, and a fitted waist. This suit is usually worn with a turban or a pagri and is often accessorized with a pocket square, a pocket watch, and a cummerbund. They are very popular among formal occasions such as weddings, religious ceremonies, and other important events. A timeless classic
Bandhgala suit for weddings
that have been worn by men for centuries, is a symbol of sophistication and elegance and is a great way to make a statement and stand out from the crowd. A hat-tip to the history of old-world charms, this elegant
3-piece Bandhgala Jodhpuri Suit for the groom
from The HUB's new Poetry On Threads Collection are sure to make your evenings a lot more exclusive.
THREE
The Brilliance of Signature Wear
Hand-embroidered tone-on-tone tuxedo understated elegance. A tuxedo suit is a classic and timeless choice for absolutely any kind of men's formalwear event. A customary suit that is typically worn to black tie events, such as weddings, proms, and other formal occasions, a tuxedo undoubtedly adds dimension to your evening. Owing to the luxury of black or midnight blue, most tuxedos are weaved through these hues. You can pair it with a white dress shirt, bow tie, and dress shoes to make it an outfit to remember. The tuxedo suit for men is a timeless look that will never go out of style and is sure to make any man look and feel his best. Designed with a signature stretch, this suit from The HUB's new collection depicts the perfect play of blue on black.
FOUR
The Feeling of Vintage
A three-piece suit is a timeless and classic look for any man at a wedding. Whether you're the groom, a groomsman, or a guest, a three-piece suit is a great way to look sharp and stylish. For an evening wedding, a dark-colored suit in a wool or tweed fabric is a great choice. You can blindly choose navy or charcoal as a classic option, but can also play with bolder colors like burgundy or forest green. The key to a great three-piece suit is the fit. Make sure the jacket fits snugly around the shoulders and the trousers are tailored to your body. The waistcoat should be fitted but not too tight. The length of the jacket should be just below the hip and the trousers should be hemmed to the right length. With the right fit and accessories, you'll be sure to make a great impression.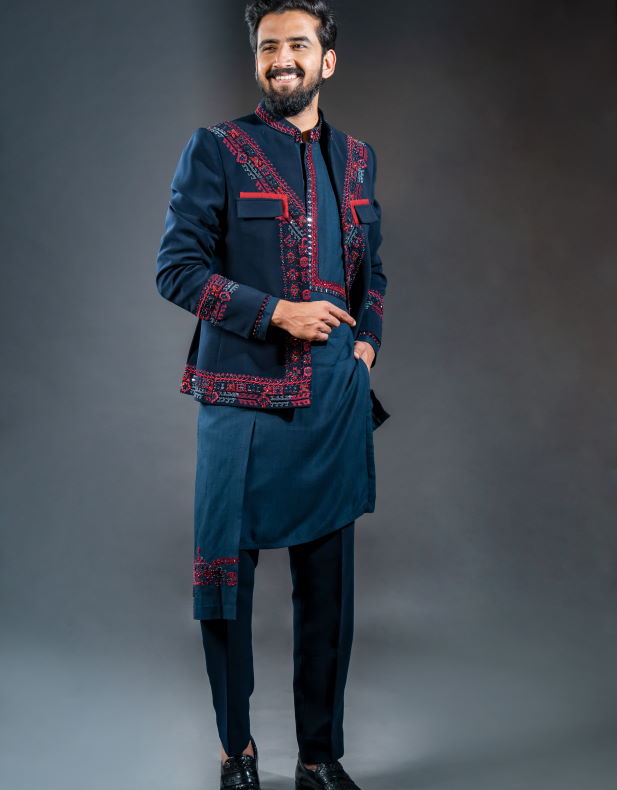 FIVE
The Tradition with a Twist
Indo-western wear for men is a great way to look fashionable at a wedding. A combination of traditional Indian and western styles makes this attire from The Hub's new collection perfect for all wedding functions. It is ideal to choose deep jewel-toned hues that depict subtle glamour along with the perfect display of relaxed elegance that utterly flaunts the regality of an indo-western outfit. Indo-western is a great way to that evoke the touch of Indian aesthetics. Get ready to add nonchalant panache to your events with a tailor-made Indo-western suit with customised accessories like a bow from The HUB, which makes it a perfect sartorial choice for your wedding.
So, what are you waiting for? Visit The HUB and choose your very own #GroomLook and "Make your Mark" everywhere you go. Stay tuned for more style updates.