Most of us know this by now: Putting together an ethnic wardrobe isn't as easy as it looks. And most of us probably have made a few mistakes by now. But festivals are here to stay, weddings are an occasional affair, and we'll have to be on top of our ethnic wear game. So here are some sins, we mean mistakes, that should be avoided at all costs when putting together your ethnic outfit.
ONE
NOT KNOWING WHERE YOU'RE GOING
Although we reserve Indian ethnic wear for special occasions, knowing the event is important. India has a number of special occasions: we have weddings, festivals, and cultural events. Each event has its own importance and relevance and the same goes for clothes. You can't wear a three-piece embellished sherwani at a pooja. A white cotton kurta at weddings is off-limits. So be well aware of the occasion and put together your outfit. Here's a rule of thumb: Going to a wedding? Rock that Indian sherwani,
jodhpuri kurta
, and Nehru jacket. If it's a festival, a kurta payjama look, pathani suit, and cotton kurta will work best.
TWO
COTTON OR CHANDERI? NO IDEA
Finding ourselves melting away in a brocade kurta on a summer afternoon is an experience many of us are familiar with. We can avoid this mistake. Cotton kurta, chanderi kurta, brocade kurta, silk kurta, velvet kurta—the list is endless. Understanding your fabric can take some time and a lot of research. Other important things to consider are the weather and the time: Is the wedding on a summer afternoon? The engagement ceremony on a winter evening? The fabric of your outfit can make or break your look. Flowy cottons look elegant in a low-key cultural event and are great for the hot summer weather. Sumptuous heavy brocades make you look put together at weddings and will keep you warm on a chilly winter night.
THREE
TOO LONG, TOO SHORT
The long-sleeved kurta forms the foundation of all ethnic wear. From here, we have the indo-western kurta, the V-neckline kurta, and so on. And this is where most men go wrong. Not all kurtas are made the same, especially when it comes to size. A short kurta may bring attention to the excessive roundness of chubby men. So here's a quick guide: For short or medium-length kurtas, know where your hemline is and make sure it falls below your fingertips.
FOUR
WRONG NECKLINE
A kurta's neckline gives structure to the wearer's body. It can make shoulders look broader, necks longer, and the frame sharper. Although V-neckline kurtas were all the rage, they aren't for everyone. Know your body type first and then choose from all the bandhgalas, round necks, henleys, or collared necklines.
FIVE
TOO TIGHT, TOO BAGGY
Ideally, the wardrobes of skinny and muscly guys would have a few differences. But regardless of shape, size, and weight, every man needs a well-fitted kurta. For a skinny guy, a baggy kurta could emphasize his skinny frame. Something that should be avoided at all costs.
SIX
TOO MUCH BLING
The image represents the perfect example of what not to do. The phrase "Big, fat Indian Wedding" didn't mean get all your gold out. Screaming your presence (or wealth) isn't the classy thing to do. So what to do? What to wear and when? Here are a few rules: Go for a necklace when wearing solid, light-colored kurtas that aren't too embellished. For
sherwanis
that are saturated and deep in color, a brooch will do.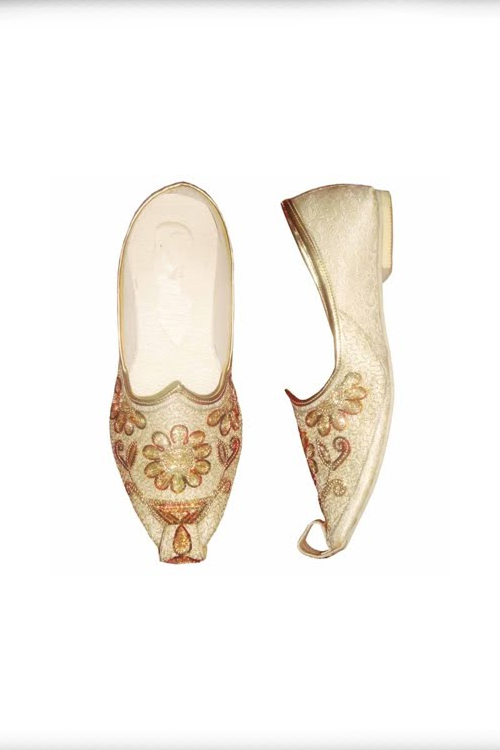 SEVEN
(WRONG) SHOES
What is the perfect conclusion to an ethnic outfit? A pair of Mojadis. A caveat: Keep your footwear simple. Stay away from bright colors and embroidery. Whether it's casuals or ethnic, your footwear should elevate and never distract from the rest of your outfit.