In the grand tapestry of Indian weddings, the bride's attire often takes center stage. However, the groom's ensemble is equally significant, and nothing exemplifies regal elegance quite like a well-tailored sherwani for men. More than just a wedding outfit, a sherwani is a symbol of cultural heritage, tradition, and individual style. In this comprehensive guide, we'll delve into the various styles and designs of sherwanis, offering invaluable tips on selecting the one that perfectly complements your body type and personality.
The Importance of the Right Sherwani
Choosing the right sherwani is not merely a matter of fashion; it's a reflection of your personality, your culture, and your sense of style. A sherwani can make or break your wedding look, so it's crucial to select one that not only looks good but also feels like a second skin. Whether you're drawn to the grandeur of a royal sherwani for the groom or the understated elegance of a white sherwani for the groom, your choice should resonate with who you are.
Tips for Choosing the Perfect Sherwani
The first step in choosing the perfect sherwani is understanding your body type. Are you tall and lean, or shorter and more muscular? Each body type has a style that enhances its strengths and minimizes its weaknesses. For example, taller men might opt for longer sherwanis with vertical patterns to accentuate their height, while shorter men might choose designs that create an illusion of height.
Think About Your Personality
"Your attire should be a reflection of who you are." This timeless piece of wisdom holds especially true when selecting a sherwani. Are you a traditionalist at heart, or do you have a flair for the contemporary? The market is flooded with options, from classic sherwanis to jodhpuri sherwanis for weddings. Choose a style that not only looks good but also makes you feel confident and comfortable
The type of wedding you're attending will significantly influence your sherwani choice. For a grand, traditional wedding, nothing beats the opulence of a royal sherwani for the groom, often adorned with intricate embroidery and lavish embellishments. On the other hand, a beach or destination wedding might call for something lighter and more relaxed, like a white sherwani for the groom.
Trends in Sherwanis for 2023
Solid colors are making a significant impact in the world of sherwanis. A pastel shade sherwani, for instance, exudes a sense of sophistication and is incredibly versatile. These solid colors work exceptionally well for daytime events, adding a touch of elegance to your overall look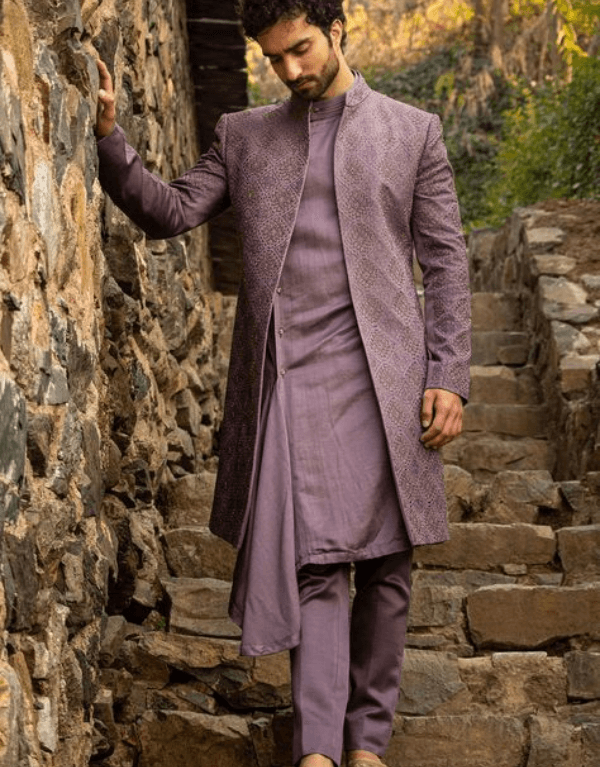 While heavy embroidery has its charm, the trend is shifting towards more subtle, understated designs. These sherwanis strike a perfect balance between modernity and tradition, featuring intricate patterns that are elegant without being overwhelming. This style is particularly suitable for grooms who prefer a minimalist yet classy look.
The sherwani color palette is expanding, with lighter shades gaining popularity. Whites, creams, and other pastels are making their way into the groom's wardrobe, offering a fresh, contemporary alternative to the traditional dark hues. These lighter colors are especially suitable for daytime events and summer weddings, where they contribute to a breezy, relaxed atmosphere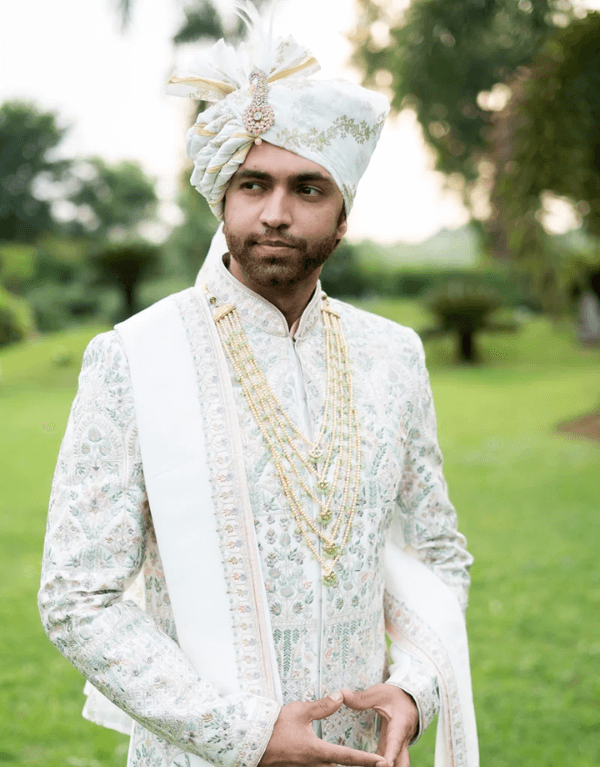 Selecting the perfect sherwani is a critical aspect of your wedding preparations. It's not just about the fabric, the color, or the embroidery; it's about finding an ensemble that complements your body type, mirrors your personality, and is appropriate for the occasion. So, as you gear up for your big day, don't hesitate to experiment with various styles, from the grandeur of jodhpuri sherwani for the groom to the timeless appeal of classic sherwanis. Your ideal sherwani is out there, waiting to make you look and feel like the royalty you are. If you found this guide enlightening, we'd love to hear from you. Feel free to leave a comment or share this post on social media. Your feedback is invaluable to us!