The Ultimate Guide to Men's Festive Wear
When the festive season arrives, it's time to elevate your style game and embrace the joyous spirit with confidence. Festivals and special events call for a touch of elegance and tradition, making it essential for men to put their best foot forward in the fashion department. In this ultimate guide to men's festive wear, we will explore the art of donning impeccable outfits that capture the essence of celebration and culture.
Elevate your Festive Events' Outfit Style
The festive season is a time of vibrant colors, joyous gatherings, and cultural significance. It's an opportunity to express your individuality while respecting tradition. Selecting the right festive outfit is crucial, as it reflects your appreciation for the occasion and your sense of style. Whether you're attending a religious festival, a family gathering, or a celebratory event, here's a comprehensive breakdown of men's festive wear options.
Stand out with Stunning Festival Season Clothing
The festival season offers a range of clothing choices, but a few options stand out as timeless and versatile choices. Among them are kurtas, sherwanis, and bandi set. Let's delve into each option to help you make an informed decision for your festive attire.
Kurta pyjama is a classic ensemble that effortlessly combines comfort and style. It consists of a long tunic-style shirt (kurta) paired with relaxed trousers (pyjama). This outfit is an excellent choice for a wide range of festive events. Whether you're attending a Diwali celebration, or a family wedding, a well-fitted kurta pyjama can make you stand out in the crowd. It allows for easy movement and is available in various designs, patterns, and fabrics to suit your personal taste.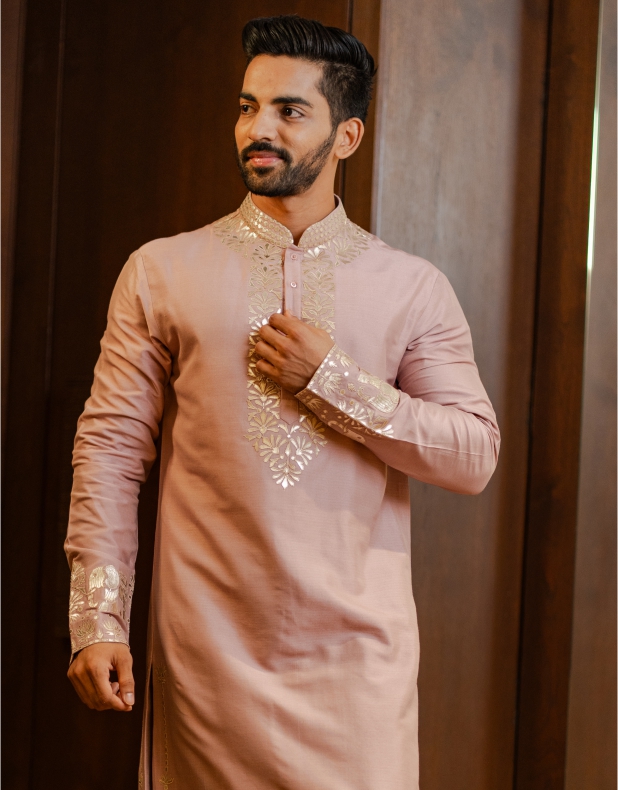 Right Color and Fabric for Kurta Pyjama
Choosing the right color and fabric for your kurta pyjama is pivotal. Festive occasions often call for vibrant and rich colors like deep blues, maroons, and regal golds. These colors not only exude a celebratory vibe but also complement the traditional spirit of the event. When it comes to fabric, opt for luxurious materials like silk or brocade for a lavish look, while cotton and linen are great choices for a more casual yet sophisticated appearance.
Sherwanis and Festival Kurtas for Men
For those seeking a more grand and majestic appeal, sherwanis and festival kurtas are fantastic alternatives. A sherwani is a long coat-like garment, typically adorned with intricate embroidery and ornate details. It's often paired with churidar pants, dhotis, or trousers (pyjama). Sherwanis are a popular choice for weddings and formal festivities. On the other hand, festival kurtas provide a fusion of modern and traditional styles, making them versatile options for events of varying degrees of formality. Pair your kurta with churidars, dhotis, or trousers, depending on the occasion and your personal preference.
As the festival season approaches, embracing the richness of culture and celebration through your attire becomes a statement of honor and respect. Festive outfits for men, whether it's the ever-classic kurta pyjama, the regal sherwani, or the modern festival kurta, allow you to express your unique style while paying homage to tradition. The right choice of colors, fabrics, and accessories can transform your look into a masterpiece that resonates with the festive ambiance.
In this ultimate guide, we have explored the primary options for men's festive wear, emphasizing the elegance and charm of kurta pyjamas, the grandeur of sherwanis and festival kurtas.
Remember, the key lies in selecting outfits that not only make you feel confident and comfortable but also align with the significance of the occasion. So, as you prepare to immerse yourself in the festivities, let your attire reflect the joy and spirit of the season.