Raksha Bandhan, a cherished Indian festival, celebrates the irreplaceable bond of love and trust between brothers and sisters. As the thread of Rakhi symbolizes protection and care, so does the festival call for an elegant ensemble to honor the occasion. We have a set of ideas here, to provide men with splendid Raksha Bandhan outfit ideas, blending tradition and style for the Raksha Bandhan celebrations.
ONE
Traditional Wear for Raksha Bandhan
Embracing our culture is most beautifully expressed through our attire, and traditional wear plays a significant role in enhancing the spirit of Raksha Bandhan. Time-honored outfits like kurta-pyjamas embody the charm and grace of Indian heritage, making them ideal Raksha Bandhan outfit idea for men.
TWO
Kurta Pyjama For Men: A Classic Choice
Nothing speaks of simplicity and elegance quite like the classic kurta pyjama for men. Ideal for Raksha Bandhan, this ensemble effortlessly exhibits tradition and sartorial finesse. Opt for colors like whites, pastels, or earthy tones, reflecting the festive ambience and the warm summer hues. To add a modern twist, consider pairing your kurta pyjama for Raksha Bandhan with a waistcoat or a printed scarf for a stylish yet traditional look.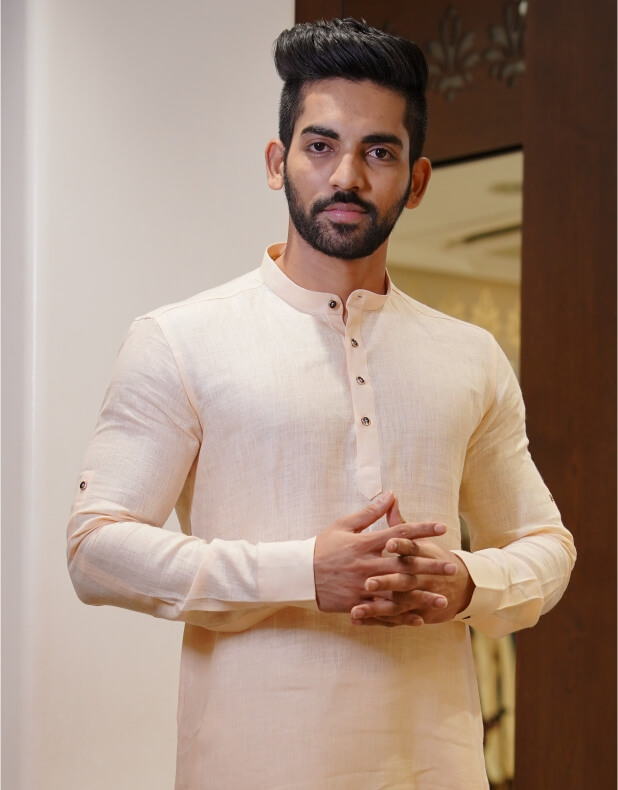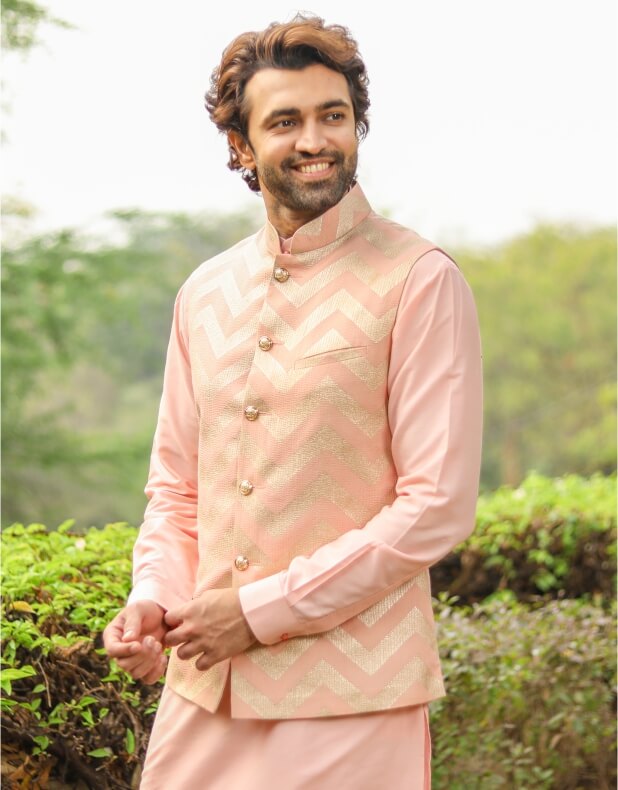 THREE
Kurta Pyjama for Men with Nehru Jacket
For those who wish to strike a balance between tradition and modernity, a kurta pyjama paired with a Nehru jacket for men offers a stylish solution. The jacket adds a layer of sophistication to the traditional kurta pyjama, making it an impressive ensemble for Raksha Bandhan. The blend of modern silhouettes with traditional attire gives this outfit a contemporary edge, a perfect testament to the Modern Maharaja.
Material and Fabric Choices
The choice of fabric can dramatically influence your comfort and appearance during the Raksha Bandhan celebrations. Lightweight materials like cotton and linen provide comfort, while silk adds an unmistakable sheen and richness to your festive attire. Opting for breathable and comfortable fabrics ensures you enjoy the festivities while looking your absolute best.
Raksha Bandhan is a festival of love, trust, and protection. The way you dress speaks volumes about the respect and importance you assign to this special occasion.
With options ranging from classic kurta-pyjamas to regal sherwanis, and stylish Nehru jackets, you're sure to find your ideal Raksha Bandhan outfit ideas for men in The HUB Brand's stunning collection.
So, this Raksha Bandhan, get going yourself in the festive spirit with an elegant outfit that resonates with your style and the essence of this beautiful festival.