In a world where everything from a photograph to a conversation is about being candid or casual, everyone seems to reflect the same in their wardrobes as well. Some of you are working from home, some are back to the office, but what hasn't changed for men, particularly in the Indian context, is the idea of dressing formally for an office day or event. Most Indian men still prefer wearing a shirt with jeans – which is totally acceptable – but is it not too ordinary? Casual outfits are comfortable, however, formalwear makes you look great and actually look the part – especially when you are part of the nine-to-five schedule.
Here are 7 formal outfit ideas for Indian men that you can carry smartly at any formal event.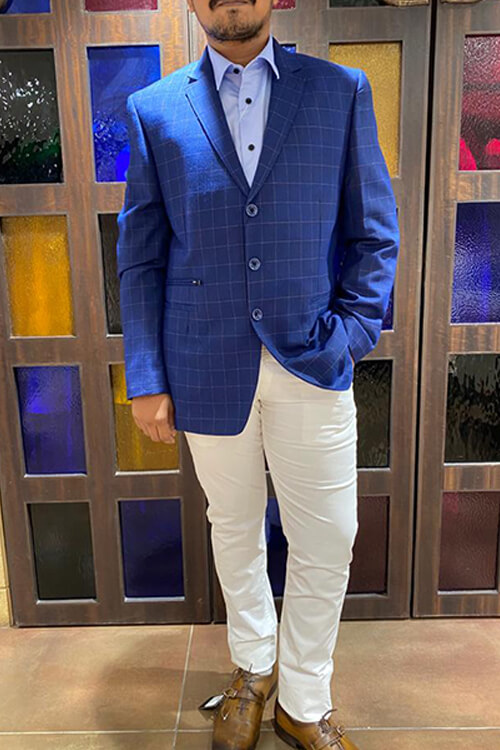 ONE
GREY PANTS & NAVY BLAZER
The contrasting combination of light grey and navy is a work of perfection when it comes to formal menswear. Complete your outfit by pairing it with a crisp white shirt, brown belt, and brown shoes and you're ready to leave an enthralling effect on your clients.
TWO
REFRESHING PRINTED FORMAL SHIRTS
An energizing formal outfit idea for men – the printed formal shirts – add a pleasant touch to a daytime office event. Be it an outdoor client meeting or a semi-formal office party, coordinating your printed shirts with dress pants is your go-to outfit of the day!
THREE
WHITE SHIRT AND OLIVE GREEN CHINOS
This outfit screams Friday all over! A crisp white formal shirt with khaki chinos, preferably in the color olive green will leave an impression on others. You can carry this outfit at formal meets and also don it at Friday post-work parties when paired with a black leather belt and matching shoes.
FOUR
PINK SHIRT WITH NAVY PANTS
Planning to add a touch of spontaneity to your outfit? The combination of a light pink formal shirt and navy dress pants is an outfit that amplifies your personality. It is the perfect glow-up you needed from your regular OOTDs. While men shy away from adding pink to any of their outfits, this attire perfectly merges elegance and fun together. Complete your look with a brown leather belt and similar coloured shoes.
FIVE
THE TEE FORMAL OUTFIT
Have you seen those outfits that are both formal and casual at the same time? Well, this outfit for men is in trend because of its comfortable yet official appeal. All you have to do is pair your solid white tee with a smart blazer and matching pants. Do not forget to tuck in the tee or the ensemble would lose its charm. Throw on a pair of white shoes to complete the look and you're ready to step out!
SIX
SOLID COLOURED SHIRTS & BLACK PANTS
When it comes to colours like bottle green, brick orange, or maroon, you can always pair it up with deep black pants. Throwing a black or brown leather belt with similar coloured shoes is always a good idea to make heads turn with your perfect formal look. This trend lets you carry colour with class.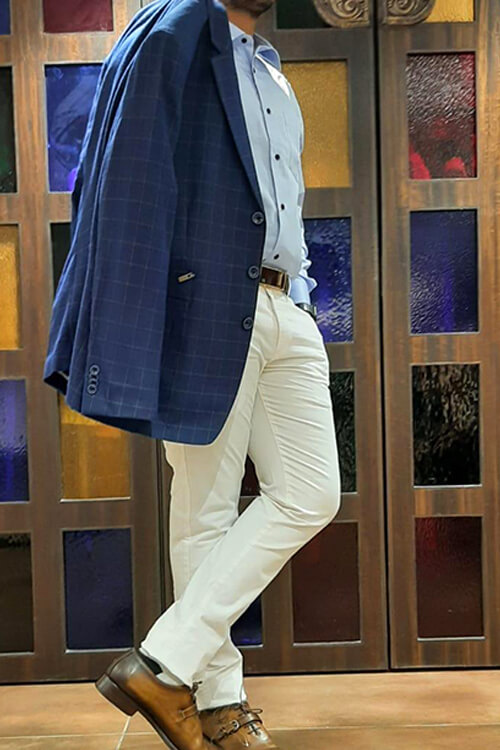 SEVEN
BLUE SHIRT, WHITE PANTS AND NAVY BLAZER
For all the Monday blues and midweek crisis, this outfit is your fashion fix! When it comes to white bottom wear, most men choose to pair it with contrasting colored top wear. However, using the shades of blue or the pastel palette adds more power to you and your outfit. For instance, throw on a light blue shirt with white pants and complete the look with a navy blazer and let the blue hues spell out everything nautical.
Formalwear can seem a lot to carry at times, however, men's fashion has played an important role in setting the first impression right – be it at work meetings or just a day out with your colleagues. Your style and fashion are a part of how you present yourself, and in today's competitive world, it has become a part of who you are.
The HUB aims at making the 'Man in Fashion' set trends the right way. Explore the latest trends in formals at The HUB.