Cuz, it is all about attention to detail…
Whoa! Did we just hear you say that flaunting prints is just for the women crowd?
It's summer, the season to have a little fun with your style, and the season of prints! From floral to geometric, bold cones to simple stripes, men are embracing any and all kinds of prints with sheer confidence. With its playful ability to transform any outfit into a "summer-ready" one, now is the perfect time to don and work a printed shirt into your summer wardrobe. With this month's edit from The HUB, we bring to you five exciting and fun ways to own your summer outfits. Allow us to introduce you to different summer printed shirts for men and how to style them!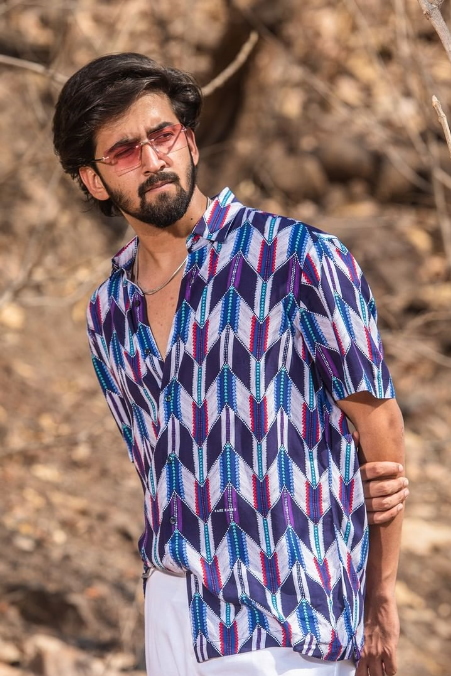 ONE
BOHO-AMIDST-THE-TREES VIBE
Simply throwing on a
boho shirt
with some slim jeans and boots creates a look that you can carry straight from a city to go hiking in the woods. Styling the all-time comfortable fabric like cotton linen with a pair of shorts can also prove to be subtle to suit all your vacay fashion needs and wants. As a part of our Spring/Summer'22 collection, The HUB brings a wide range of the oh-so-very-cool
Bohemian printed shirts
that are just right to add a spark to your outfit. If you're worried about the arrow print being a little too casual, you can easily toughen it up with some accessories, dark jeans or a blazer. On the other hand, pairing this shirt with some comfy
chinos
and a suede bomber jacket makes it classy enough to flaunt for pretty much any occasion.
TWO
THE BEACHY AFFINITY
Since it's the season of heat, the most casual destination to flaunt a floral printed shirt would be everyone's favourite, the beach. The feeling of shoes in your hand and the sands twirling between your toes is also picture-perfect. To have this memory captured in the best way possible requires you to look at your best too. Nothing's more natural together than a white
printed shirt and plain shorts
. A calm and patterned floral merged with the hues of blue makes the perfect outfit for you to hang out with this weekend. Pair this classic floral
linen printed shirts
luxury from our Shades of Summer collection with a pair of white shorts and top it off with sneakers to complete your casual vibe look.
THREE
FEELING A BIT STRIPPPYY?
Stripes have been a staple
menswear fashion
piece since the dawn of time. But did you know that not all stripes are created equal? Rocking the very simple striped look is all about choosing the right kind of stripe for your body type, and matching your outfit accordingly. The most in-trend
casual-formal
way of dressing is pairing your colorful striped shirt with the ever-classic denim. Keep in mind the fit and stretch of the shirt, you can easily ace this look by leaving the shirt untucked and adding a pair of minimalistic sneakers that tie everything together. A representation of your free spirit, the beauty of this look is that it is perfect for finding the balance between bold and conservative and that it can fit in any time and place!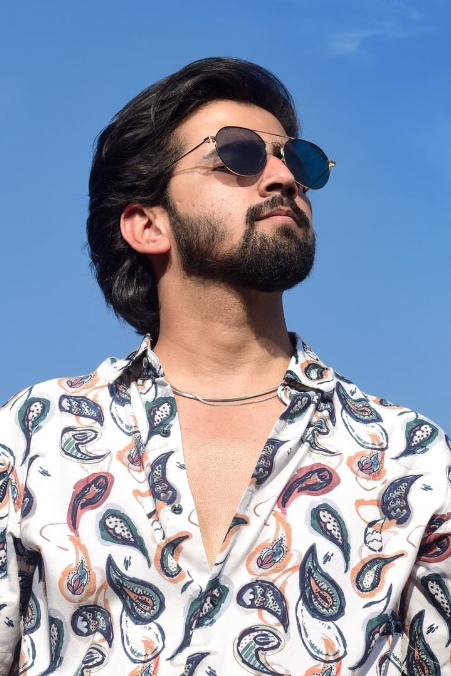 FOUR
A TOUCH OF ARTISTRY
The stunningness of geometric prints is that they can never go wrong! Flaunt them bold or understated, coordinating or complementing, you can always be the man in the room making a statement. From triangles to circles to randomly drawn crazy shapes, this kind of print brings interest to your entire outfit. Cotton printed shirts help seal the spot between bold and wearable. Easy to incorporate in all kinds of outfits, geometrics fit from casual to formal wear. You can simply pair a cool artistry-geometric
printed shirt
with a pair of denim for a laid-back brunch or wear it underneath your suit for those formal business meetings. One quick note – keep the
prints small for formals
with subtle colors.
FIVE
WRAPPED IN NATURE
With summer, it's time to break the neutrals to up your printed fashion game. Nature-related shapes and colors go best with any and all occasions. With some quirky leafy additions to your wardrobe, you can let your outfits speak for themselves.
The HUB
brings an entirely new range of nature-printed closet pieces with its Spring/Summer'22 collection that can help you choose all your vacay outfits perfectly. You can casually pair a
black printed shirt
like this with denim shorts and white sneakers for a hangout with friends or chinos with semi-formal footwear if you want to rock that bold choiced look for someplace a bit more sophisticated.
So, what are you waiting for? Visit The HUB to add some aspiring and inspiring print additions to your summer wardrobe. Stay tuned for more style updates.