Spring – Summer is a time of uncertain weather conditions, and therefore uncertain clothing needs. Conquering the season in style means knowing what to wear, how to wear it, and which way to maintain that style of yours. This is just a sneak peak into the summer style hacks that you absolutely ought to know.
1. Roll Up Your Sleeves, Perfectly
Very few are aware of this simple, yet perfect hack to roll up your sleeves without getting them all clumsy. The hack is to roll up your sleeves before wearing the shirt. Yes, that way it gets easier to roll up your sleeves to your biceps, without having to struggle through it. Try it, it really works great.
---
2. Maintain Your Denim, By Freezing It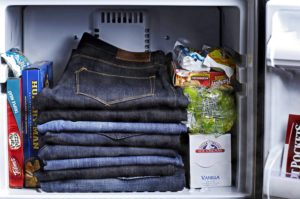 You read it right, you can actually maintain your denim's fabric and colour by freezing it. Summer means a lot of sweat and hence bacteria. Washing your denim frequently takes a toll on its fabric and colour. Whereas freezing it overnight, kills odour causing bacteria without harming the denim. So you know what you've gotta do with your denim now.
---
3. Give Up On Short Lived Summer Scents
With summer, comes a great need of scents that last really long. All you gotta do is grab on scents like Calvin Klein, Davidoff Cool Water, Kouros, Police, Hugo boss, and Armani.
---
4. Wear The Right Shoes
Your own style sense can determine what shoes you wear. But one thing you must keep in mind is that nothing can sink your smart outfit quicker than an ugly looking pair of shoes. While we have endless options when it comes to footwear, the best and the most reliable pick is boots. They are manly, sturdy and versatile.
---
5. Brighten And Whiten Your Summer Whites
Wearing whites regularly means getting them dirty and tough to wash. While everybody loves wearing bright white clothes, it is very difficult to maintain them. Next time you wash your whites, just add a cup of lemon juice and see the difference. It's a natural bleach that brightens whites and kills odour.
With these summer special hacks, find yourself in a win-win situation every time. Happy summer to you. Also, treat yourself with amazing summer gifts. Visit THE HUB, with the best ever Spring – Summer collection, today; and Let Your Clothes Do The Talking.