The most adored festival or may we call them the dazzling nine nights of Navratri is just around the corner. This vibrant and splendour-filled fiesta calls you out to be at your traditional best as you make your way to the Garba Nights or Puja Pandals.
With the thought of something new to embellish every day, you might definitely need more than a set of simple Kurta-Pyjamas in your ethnic wardrobe that brings out your personality for them all crazy Garba nights. The HUB brings to you a specially curated festive edit that will let you hone your ethnic Navratri attires by choosing your outfits to style gracefully and be on top of the high-on-trend meter this festive season.
After all, there's definitely more to the world of men's ethnic fashion than just the usuals.
ONE
STYLING THE CLASSIC REGAL
A well-embroidered dazzling
Jodhpuri Kurta
with a Churidar paired with a Nehru Jacket is a classic example of looking and feeling sophisticated while dressing in regal panache. This is one outfit that can never let you down. The one that suits all complexions, is perfect for all personalities and of course, is a smart twist to the usual. Simply identify the color of your Jodpuri Kurta that make you feel at your best, pair it with a contrasting hued jacket and voila! You will be the centre of attraction in the most comfortable way. Pairing this entire outfit with Mojries will surely make you a show-stopper.
AN INCH OF EXTRA TIP?
Choose materials that are camera-friendly. Avoid fabrics with reflective and shiny surfaces.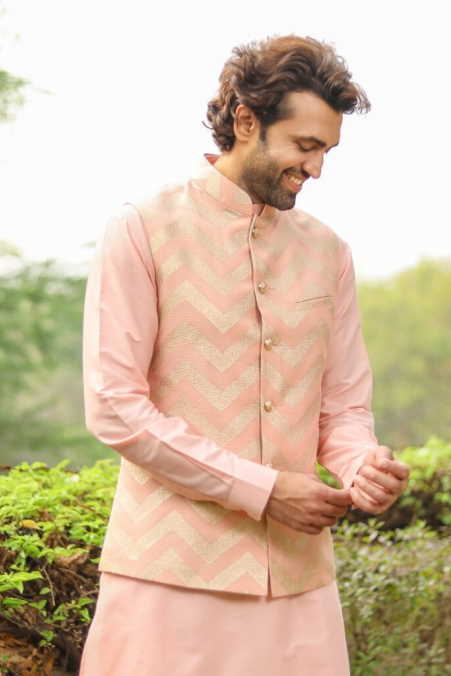 TWO
STYLING THE CONTEMPORARY BLING
If bling is your thing, then this one is just for you. Navratri for men was not about Zardosi till a few years back, but today, usage of this embellishment has taken an elegant turn in the world of ethnic fashion. One of the finest forms of handwork, gold threads on a Kurta, that have been weaved and devised make a quick entry to the unique collection of Navratri kurta outfits. Step up your game with this exclusive
indo-western zardosi
embroidered attire from The HUB along with giving your wardrobe a quick update.
AN INCH OF EXTRA TIP?
You can choose jootis to coordinate with this outfit. Also, a classic pair of Kolhapuris will never let you down.
THREE
STYLING THE CULTURAL HUES
Festivals in India revolve around a few fresh and bright hues that will stay timeless for years and years to come. So, if you are not really feeling experimental, then simply stick to the regular reds and yellows pairing them with blacks and whites. Quoting the great fashion designer Raghuvendra Rathore "A simple red men's short kurta when paired with black churi pants and Nehru jacket works wonderfully for all Indian occasions and effortlessly doubles up for a night function." Complete your outfit with an equally stunning pair of shoes topped with a smart turban and look all the eyes turn towards you.
AN INCH OF EXTRA TIP?
To add some desi vibes, slide on some butti or traditional cufflinks to your kurta sleeves.
FOUR
STYLING THE CUTS OF THE ICONICS
Festivals are rooted in traditions and so should our outfits. This Navratri, take inspiration from the historical style and fabrics, add your own sparkle to it and flaunt your very own traditional Gujarati Garba outfit weaved in tradition. Iconic cuts like the Angrakha, Bandi or the Jama with a punch of deep hues and patterns that are inspired by culture, style yourself gracefully in these nine nights.
AN INCH OF EXTRA TIP?
Add an extra touch of Indianness by bringing on turban variations, brooches, jewels and layering.
So, what are you waiting for? Wear what makes you happy and feel confident and rock your looks this Navratri. Visit The HUB to shop for some elegant and exclusive festive collections. Stay tuned for more style updates.