Shirts and pants may be the norm, but the occasional kurta and churidar can elevate your wardrobe. Ethnic wear, if worn the right way, can make you look mature, classy, and elegant. Here are a few tips to pull it off.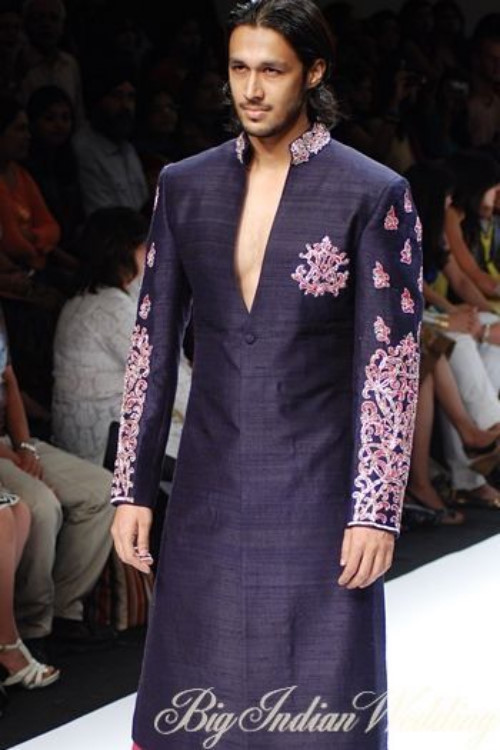 ONE
V-NECKS
A wedding is the perfect occasion to look your suave best. And good grooming is the first step to be the centre of attention amongst friends and family. So let's take out those trimmers, clippers and razors and get to work. Because if you are planning to wear a classy V-neck kurta, you don't want some chest hair peeking out and stealing your thunder.
TWO
KNOW YOUR FIT
Skinny or muscly, every guy needs a well-fitted kurta. Kurtas are designed to enhance your physique. So pick a
slim fit kurta
that's tight on the arms and shoulders. A baggy fit could make you look overweight or underweight. But if you are on the round side and are uncomfortable with tighter clothes, a looser fit is for you.
THREE
ROLL UP YOUR SLEEVES
A simple way to look classy, elegant, and masculine at the same time is to roll your kurta sleeves. Not the entire sleeve—rolling one-third of your sleeves will do the job.
FOUR
SHOES. SHOES. SHOES.
First, the golden rule(s): No sports shoes with formal kurtas. No sneakers with formal kurtas. Instead, you should be wearing loafers, in black or brown. But if it's an informal event, give flip-flops a try—but not flip-flops with logos and cartoon characters. We're talking solid, one toned flip-flops with simple leather straps. For formal events, pair your kurta with loafers. Loafers with embellishments, with tassels or embroidery, are excellent choices. Too fancy? Go for mojadis. Mojadis in black or brown are incredibly versatile and can elevate your whole look. Your shoes set the tone for your entire outfit. So get yourself a pair of formal shoes; prices range from 900 to 2,000 rupees, and it's a one-time investment.
FIVE
BOTTOM WEAR
You can pair your kurta with jeans or chinos if you're going to college or somewhere very casual. However, at weddings and other formal occasions, churidaars are the default. They're tight at the base and narrow at the ankle. So impress everyone and look the part of a classy gentleman.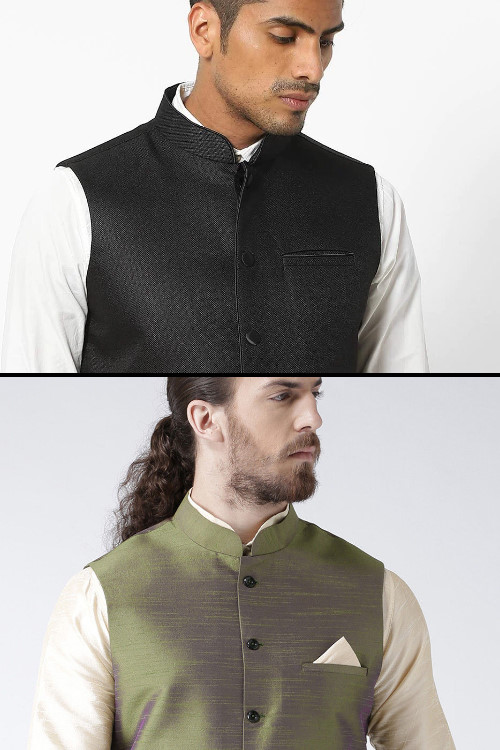 SIX
NEHRU JACKETS
A Netaji style jacket can make you look formal and a little bit more dressy if you're going to college. So try to find a simple, elegant jacket to complete your entire outfit. A sleek Nehru jacket can separate you from the crowd. Here's how you can pick one: 1. Match the colour of your kurta to the colour of the jacket. 2. Stay away from contrasts, heavy patterns and embellishments. 3. Pair saturated colours with unsaturated colours.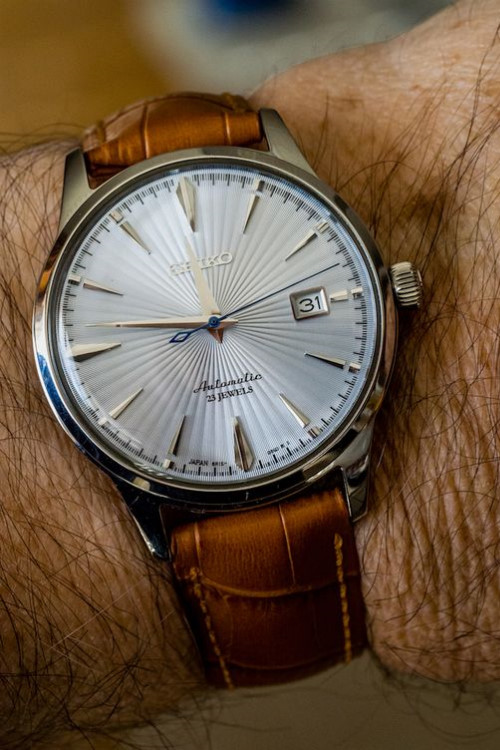 SEVEN
WATCHES
At weddings and other formal events, avoid thick straps and metal watches. Such textures can clash with a cotton kurta. Go for black or leather brown straps with outfits that are on the darker side. Go for light browns when wearing off white.
It's the little things that matter—watches, collars, cufflinks, shoes can make or break your outfit. So pick your accessories well and be the Big B of the occasion. Don't know where to start? Explore The HUB's collection of premier ethnic menswear.