The festive season is just around the corner and if you are reading this edit, it is a hint you got to start shopping for the same ahead. But wait! Before you begin the unending but fascinating process of shopping to look your best this entire season, The HUB brings to you some quick tips that will give you an upper hand against some regular ethnic mistakes many men make. Along with some common misconceptions like men's wear is only either too boring or too flashy, or that men just have a set palette of colors that they can flaunt, we will be breaking some myths and telling you what can be avoided to help be dressed to the nines.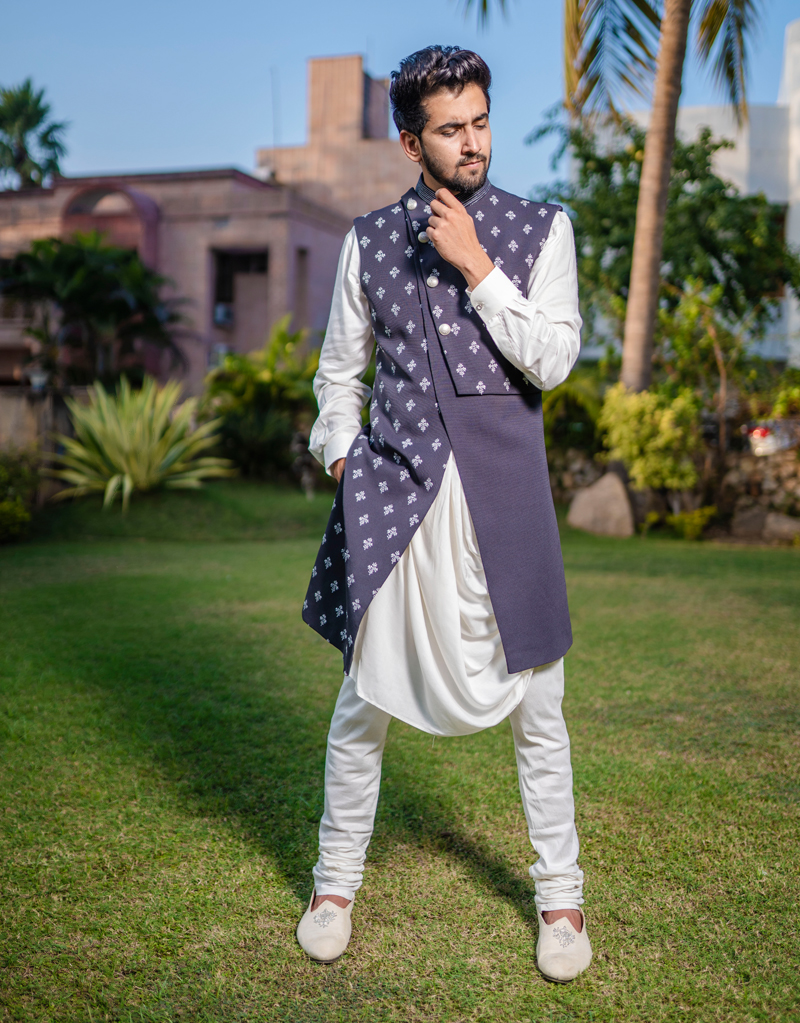 ONE
FORGETTING TO ADD THAT POP OF COLOR!
A lot of men's ethnic wear revolves around the hues and shades of blue, black, green or white. Although these colors have a charm of their own, sometimes a quirky addition to them helps you add pop and twist to the old-school outfits in your very own subtle manner. You can simply grab and add a shawl of brighter color to your regular kurta set. Or if you love experimenting, why not flaunt some warm yellows and oranges for day looks or opt for some sangria shades for the nights. Check out this kurta and waistcoat from The HUB decorated with thread work to give you the perfect festive look for all your traditional occasions.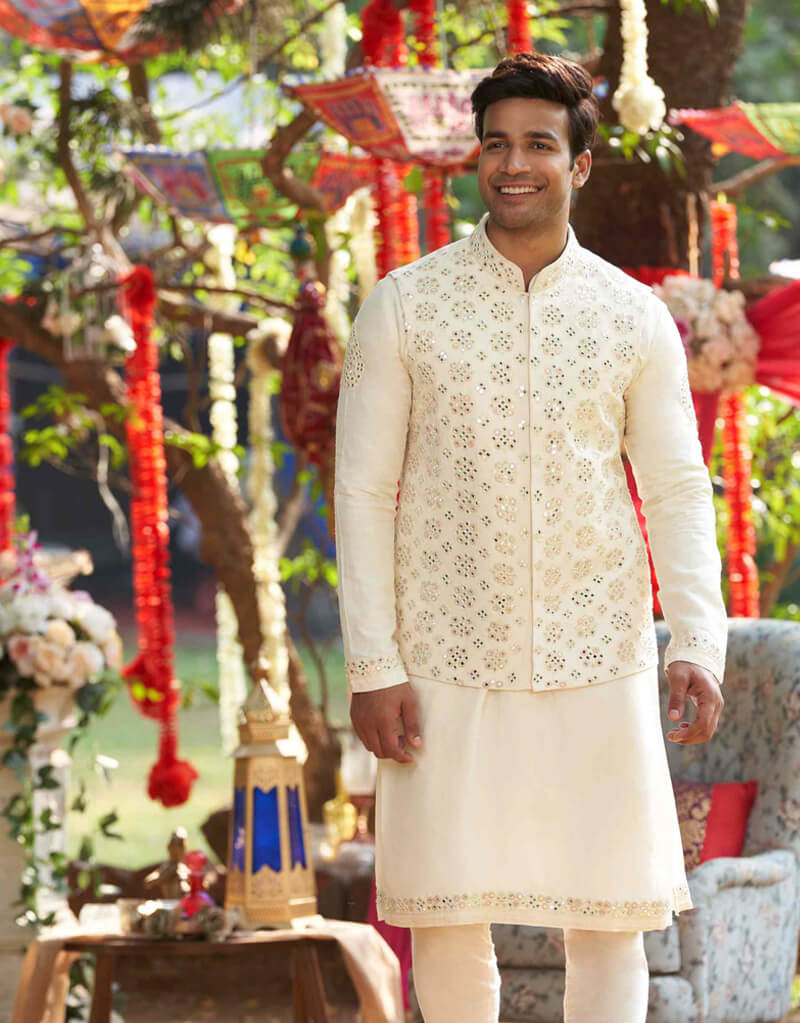 TWO
DRESSING IN TOO MUCH OPULENCE!
It doesn't always have to be either a sherwani or a pathani suit if you are going for a festive look. The occasion might be a function in your backyard or puja at a friend's place. To rock such festive affairs without looking too flashy can be as easy as ABC if you know it right. You can quickly grab an indo-western piece in any neutral shade gilded with some basic prints or textured with ornaments and be ready to have all eyes on you the moment you walk into the room. Try out this mirror-worked waistcoat paired with a creme-shaded kurta from The HUB to dress up in flair.
THREE
NOT UNDERSTANDING MINIMALISM
The concept of minimalism has always been associated with a touch of modernity and western wear. With rising fashion trends the same has now entered the world of ethnicity and takes traditional vogue to an entirely new level of sophistication and elegance. To enhance the suave gentleman, you can choose textures like jute, go for an abstract geometric cut or flaunt delicate floral prints. Flaunt this exquisite ethnic men's jodhpuri sherwani from The HUB with a western edge to make all heads turn on any occasion.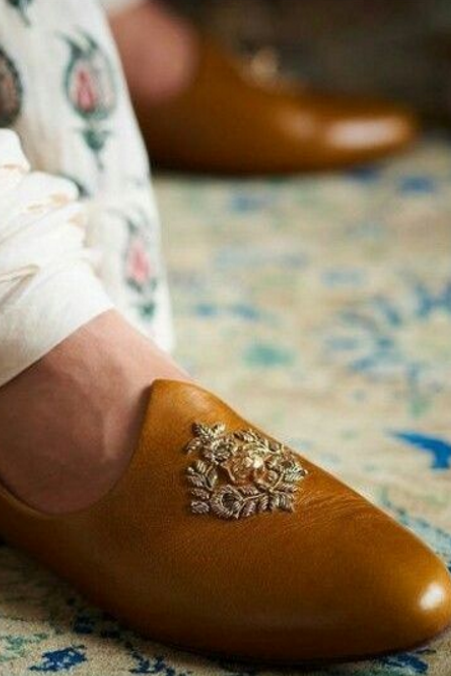 FOUR
PAY ATTENTION TO YOUR CHOICE OF FOOTWEAR
This is a deal breaker! Your footwear choices can make or break your entire outfit and this is exactly where most men go wrong. When it comes to ethnic wear, you can just not blindly choose a black pair of leather shoes while you have an elegantly adorned kurta on your personality. Brown and blue hues are better footwear choices that come in a variety of style choices like mules, kolhapuri sandals, loafers or juttis.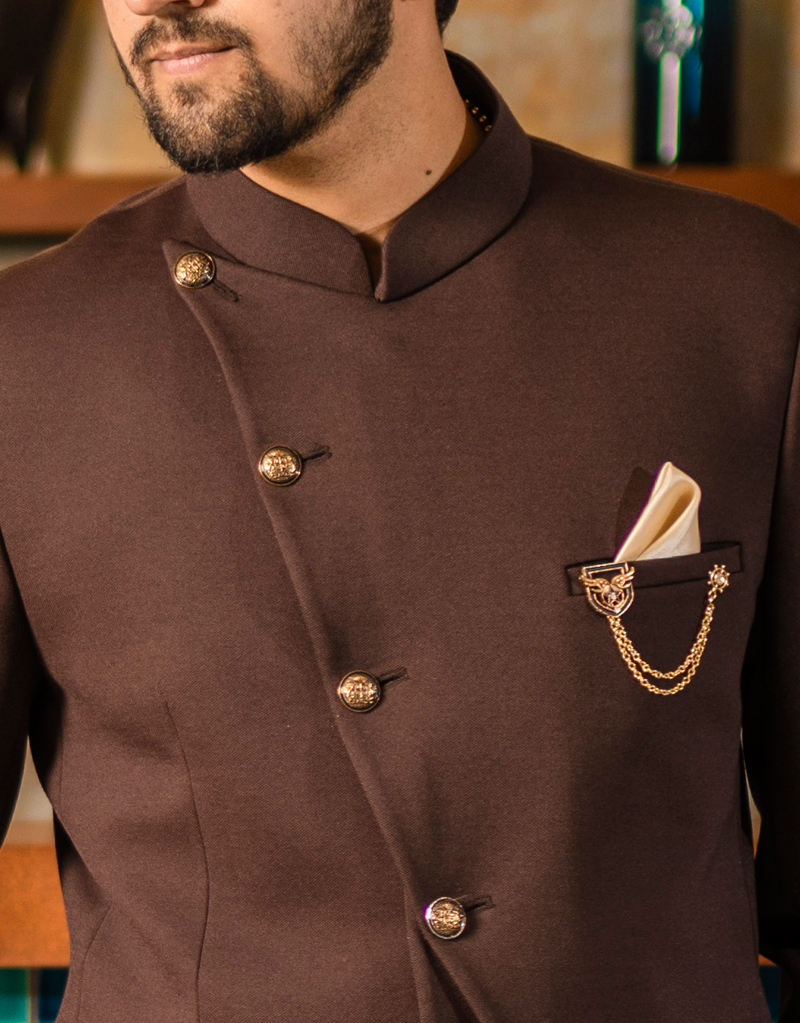 FIVE
ACCESSORIZING TOO MUCH!
The world of fashion believes that accessorizing is the best display of your unique style statement. The most common mistake that is made when one dresses up in Indian traditional wear is adorning yourself too much. A simple silk pocket square and a chain on your neck with a simple wristwatch can be the easiest way to maintain sophistication along with looking your best. After all, simplicity is the keynote of true excellence.
So, what are you waiting for? Visit The HUB to shop for some elegant and exclusive festive collections. Stay tuned for more style updates.