What's more essential than a well-fitted trouser to elevate your #ootd wardrobe. Right? With all the new styling trends flying around the fashion world, we help you level up your fashion game and embrace your inner impressionist by sliding these 5 casual trousers for men with latest trends and fabrics in your closet this season.
ONE
Corduroy Trousers
One of the most undervalued fabrics of the fashion world, cords come in a lovely medley of colors that carry outfits ranging from casual to smart. Simply pair a sweatshirt and rock that casual trouser jeans look or opt for a more tailored fit to add an edge to your personality. Slim fit and sharper cords in dark or rich jewel tones when paired with turtle neck or collar shirts will surely make you dressed for the nines.
Avoid: Loose cords with the bottom dragging to the ground.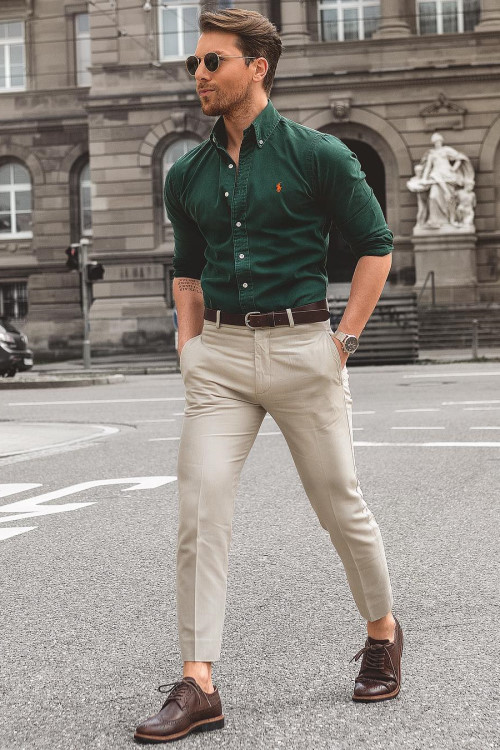 TWO
Twill Chinos
If one could only own a single style of trousers, the go should be chinos. It's a must-have for men's closet as the "slim but not skinny" approach. Something that will never go wrong or go away. With its versatility and endless pairing options, Chino trousers can be carried from summer to winter all year long. Opt for chambray wool trousers and linen shirts tucked into slim chinos to look brighter on sunny days. For a dressier take on chinos trousers, opt for a blazer in contrasting colors to amp up that reflection in the mirror. With pocket squares and knitted ties one can rock that debonair impression.
Avoid: Pairing chinos trousers with flip flops
THREE
Linen Trousers
Don't shy away from the avant garde craze. Coming straight from the runway and guaranteeing comfort in every wear, linen trousers for men come across as an effortlessly smart look. Classy outfits like a long sleeved checked shirt paired up with linen cotton trousers for men and an added pair of grey suede loafers can be easily pulled for an off-duty look. Adding a linen blend jacket to the mix can make you a skipper of the luxury vessel.
Avoid: Loose sarks or sweatshirts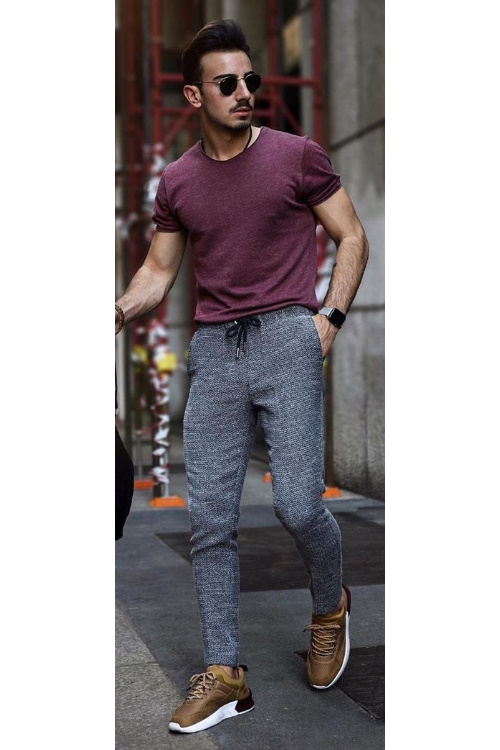 FOUR
Drawstring Trousers
With being À la mode and having a much more laid back style, drawstring trousers are one of the best things to happen to the men's clothing industry. Style knows no rules when it comes to mixing loose and tight pieces. A well tailored and structured drawstring trouser can now be incorporated into one's everyday wardrobe. Pair a slim fitted trouser instead of a baggy one with a structured blazer to pull off a polished flare.
Avoid: High waisted trousers
FIVE
Cargo Pants
From playful styles to edgy ensembles, cargo trousers personify leisure wear.
Usually worn at casual outings and on lazy weekends, one can totally pull off wearing cargo pants with a casual round neck t-shirt, and a denim over-shirt. Known as the best alternative to denim trousers, cargos have been around since ages.
With winters approaching, a lot of layering can do the trick! Half tuck a button down shirt and combine it with a sweater to give out a fashion staple.
Avoid: Leave the pockets empty for clean lines
The HUB aims at making the 'Man in Fashion' set trends the right way. Explore the latest trends in casuals at The HUB.